Intelligent
Recirculating Chillers
Oil
Cool Genius OCGE 41 to OCGE 151
Cooling capacity 3.7 kW to 19.9 kW
Wherever water or water mixtures cannot be used as a cooling medium and use of oil is required, the OilCool Genius range offers a solution.
OilCool Genius oil recirculating chillers are constructed like their water-based counterparts with a hermetically sealed refrigeration machine, a hydraulic system with pump and microprocessor-controlled temperature regulation.

Oil recirculating chillers are supplied without a separate tank as standard. However, a tank is available as an option.
OCGE41 up to 5.2 kW
OCGE41 up to 5.2 kW
OCGE61 up to 7.3 kW
OCGE71 up to 8.9 kW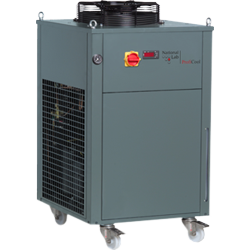 OCGE101 up to 13.0 kW
OCGE131 up to 17.4 kW
OCGE151 up to 19.9 kW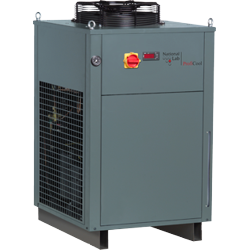 All
replica
reserved. Changes without notification © National Lab GmbH 2013